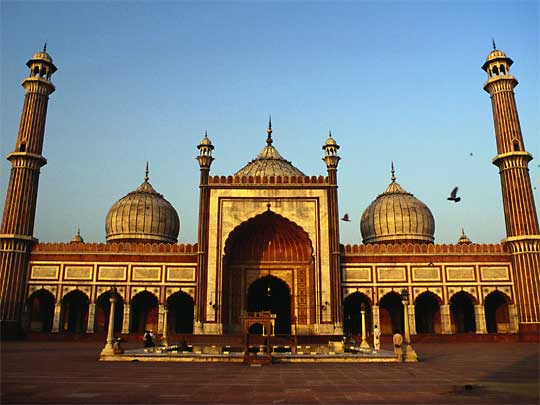 The Jama Masjid
has the distinction of being the largest Mosque in the country. It lies opposite the Red Fort and is flanked by a plethora of shops dealing in a variety of goods. This great mosque is the final gift of Shahjahan to the architectural heritage of India. Planned and designed by the great sculptor, Ostaad Khalil, the Masjid is said to be the replica of Moti Masjid in Agra. It is called Masjid-e-Jahanuma. About 5000 artisans were employed to accomplish the task of constructing this Rs. 10 crore architectural marvel.
Structure of the Mosque
The mosque is constructed in a style of alternating vertical stripes of red sandstone and white marble, and measuring 65m by 35m. Of the three imposing gateways- the main eastern entrance, which remains closed on most days of the week, was perhaps used by the Emperors. The north and the south gates, accessed by broad flights of steps, were meant for the common people. The structure was placed on a high platform so that its magnificent facade would be visible from all around. The pulpit, shaped out of a single block of marble, is one of the hallmarks of the mosque. The mosque is also adorned by four towers and two minarets.
Precious Possessions of the Mosque
A cupboard near the North Gate of the Jama Masjid contains some priceless relics of Prophet Mohammed. These include a chapter of his original Koran written on deerskin, a red beard-hair of the prophet, his sandals and his footprint, embedded on a marble slab.